Material: rail steel
Weight: 0.85,0.95,1.25,1.33lbs/ft etc
Length: 5′-10′ etc
Surface: painted with spade,painted no spade,unpainted with spade,unpainted without spade,hot-dipped galvanized
Characteristics of studded t post:
T design resists bending
Heavier and stronger than U posts
• Swaged anchor plates give posts stability
• Rail steel naturally resistant to weathering
• Easy to drive into ground – no holes to dig
• Strong holding power for any type of fence
• Galvanized posts meet Federal Highway specs with superior rust resistance
• Studs prevent fence fabric from riding up or down the post
• Fence fabric attached securely to post by pre-formed metal clips
• Anchor plates cold forged to post
Highway fence
• Boundary marker
• Farm and field fence
• Tree and shrub support
• Deer and wildlife fence
• Sand fence for dune maintennce
• Landfill and construction site fencea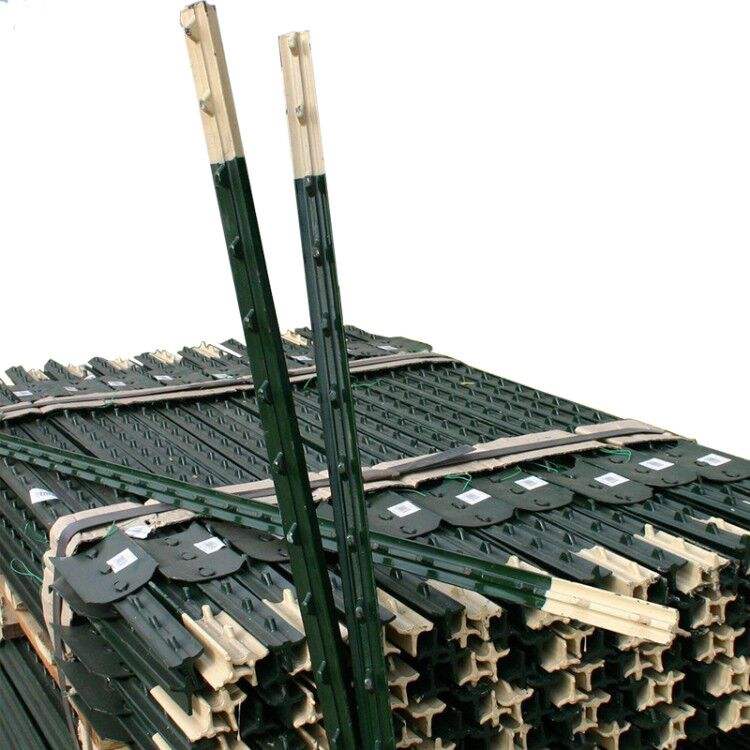 WEIGHT

LENGTH OF STUDDED T POST
5′
5.5′
6′
6.5′
7′
8′
PCS/MT
PCS/MT
PCS/MT
PCS/MT
PCS/MT
PCS/MT
0.95lbs/ft
464
422
387
357
331
290
1.25lbs/ft
353
321
294
271
252
220
1.33lbs/ft
332
301
276
255
237
207
other sizes as your demand
Packing: 5 pcs/bundle,200pcs/pallet

Application:
Applications of T studded post
Raise and fix the wire mesh fences, including welded wire mesh fence, barbed wire fence.
Post for plants climbing and maintain the healthy growth.

Experience Exceptional Fencing with Our Studded T Posts
At present, selecting proper property fencing material requires consideration about its reliability and steadfastness. Here's where our studded t post comes into play – an incomparable fencing solution that endures bending and provides stability under extreme weather conditions.
Crafted from sturdy rail Steel, our studded t posts come in varying weights and lengths tailored to fit all your customized fencing requirements. Whether it's a small garden fence or larger agricultural projects requiring heavy-duty posts – we have the ideal solution for you.
One unique aspect setting apart our studded t-posts from common fence materials is their smartly designed T shape configuration- providing more strength whilst minimizing bending compared to traditional U-posts. Moreover, when driving into the ground they don't need any digging which makes them quicker as well as easier to install.
These T-posts also consist of specially designed swaged anchor plates upgrading stability and holding power of your fence. Our studded t posts ensure that your fence remains steadfast – regardless of any force bending weather element that comes its way! We cater to the specific needs of your fencing project by offering various surface finishes such as painted or unpainted poles – with or without spades – as well as hot dipped galvanized options compliant with federal standards.
Each surface finish is naturally resistant to weathering and guarantees reliable fencing performance for years on end. Ultimately our studded t posts are an optimal choice for those looking for a strong user friendly fencing solution with quick installation time.
Whether you're a farmer in need of livestock containment or a homeowner aiming to safeguard property – rest assured that our studded t posts have you covered! So why not give them a go today?
---
Previous:
Studded T Post
Next:
T Post Clip
---