Heavy Duty Garden U Shaped Steel Fence Post With Spade
Shape: U shape, with or without spade
Material: low carbon steel, rail steel, etc.
Surface: Powder coated
Advantage: Easily Assembled, Sustainable, ECO FRIENDLY, Waterproof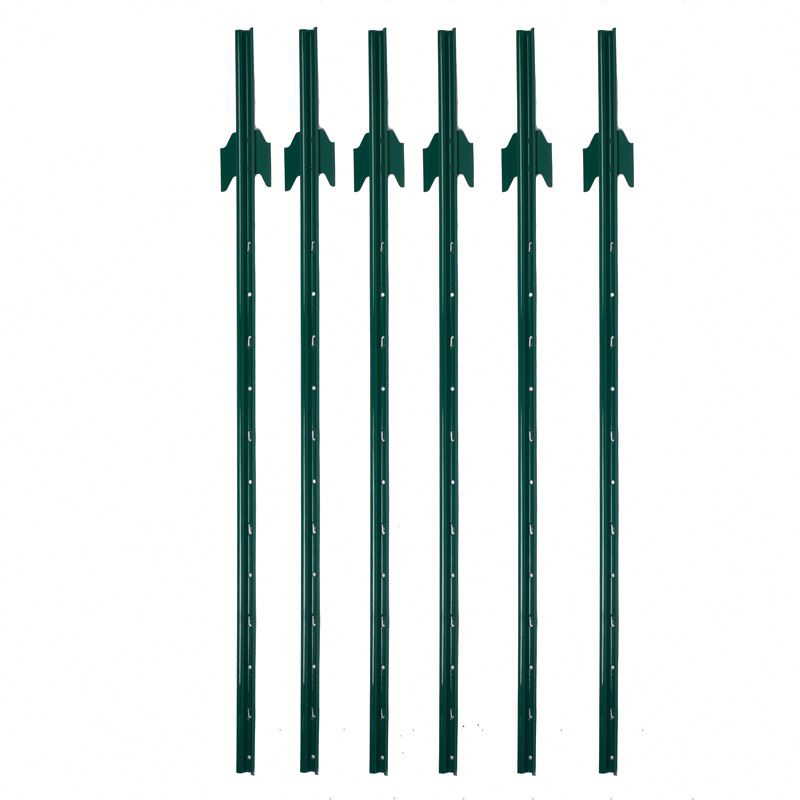 U post 
Materil
Q235
Length
3ft,4ft,5ft,6ft,7ft
Surface
Green painted, Red painted, Hot dip galvanized, No paint or as your demand
Usage
used with kinds of wire fencing
Packing
10pcs/bundle, 200pcs or 400pcs/pallet.
Production QTY:
1000tons/month
MOQ:
1tons
Delivery time:
20-30days after payment
Payment terms:
T/T,L/C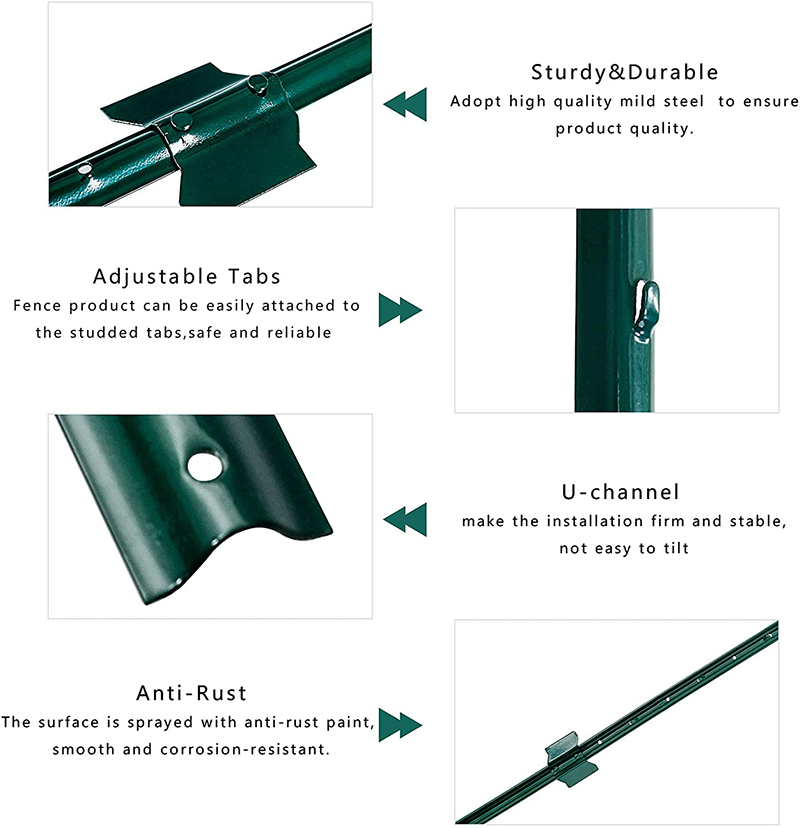 Length
Thickness
packing
3ft
14gauge
400pcs/pallet
4ft
5ft
5ft
13gauge
200pcs/pallet
6ft
7ft
包装介绍:
Pcs in Bundle Wrapped with plastic film, then in pallet.

应用介绍:
Application
Barbed Wire Fence Posts
Fence Post (8ft)
Concrete Form Post
Golf Course Markers
Ski Slope Markers
Snowmobile Trail Markers
Survey Markers
Tree Supports
Utility Location Markers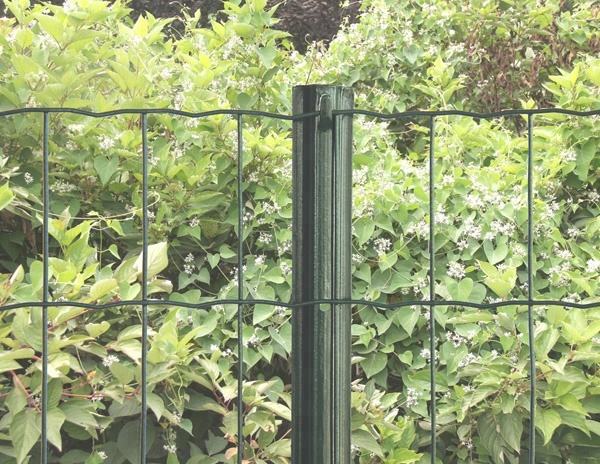 When it comes to finding an enduring fencing option thats simple yet robust – one solution stands out above the rest: The Heavy Duty Garden U Shaped Steel Fence Post with Spade. Constructed from premium quality materials such as low carbon steel and rail steel options are available with or without a spade included according to your preferences too! A key selling point is its effortless assembly process; thanks to its distinct U shape design installation couldn't be easier! And should you choose the addition of the spade option too?
An already easy process becomes even simpler!
Moreover opting for this product is not only practical but also has added eco benefits too; crafted using sustainable materials such as low carbon steel and other environmentally conscious methods makes for a responsible choice. The powder coated finish adds an extra layer of protection to make it water resistant ensuring that your fence post won't rust or corrode over time- making this an investment that will last you for years to come. Investments made towards securing your property must be reliable and long lasting to make them worth it; thats why we introduce the Heavy Duty Garden U Shaped Steel Fence Post with Spade.
With its robust construction designed by experts and its dependable design verified by satisfied customers for years you can trust us when we say this is an ideal solution for securing your property. Whether you own a small garden or vast farmland the unique U shape of this fence post offers exceptional support no matter what fencing materials you have chosen. The spade option ensures hassle free installation while giving peace of mind that it remains secure and stable at all times.
Plus its powder coated surface protects it from water damage so that durability would never be an issue; therefore providing an eco friendly approach towards securing ones property without recurring maintenance expenses – just set it up once and reap the benefits for years! The ideal solution for all your fencing needs is within reach with the Heavy Duty Garden U Shaped Steel Fence Post with Spade. This products exceptional quality is evident through its robust build quality which combines perfectly well with waterproof capabilities ensuring maximum longevity while providing security to your property without compromise.
Whether you're a homeowner, farmer, or someone who needs security fencing; this fence posts adaptability and eco friendly design make it the best choice. Get your hands on this product today and experience the peace of mind that comes with guaranteed protection.
---
Previous:
T Post Clip
Next:
Y Post
---