material: rail steel
weight: 0.85,0.95,1.25,1.33lbs/ft etc
length: 5′-10′ etc
surface: painted with spade,painted no spade,unpainted with spade,unpainted without spade,hot-dipped galvanized
Characteristics of studded t post:
T design resists bending
Heavier and stronger than U posts
• Swaged anchor plates give posts stability
• Rail steel naturally resistant to weathering
• Easy to drive into ground – no holes to dig
• Strong holding power for any type of fence
• Galvanized posts meet Federal Highway specs with superior rust resistance
• Studs prevent fence fabric from riding up or down the post
• Fence fabric attached securely to post by pre-formed metal clips
• Anchor plates cold forged to post
Highway fence
• Boundary marker
• Farm and field fence
• Tree and shrub support
• Deer and wildlife fence
• Sand fence for dune maintennce
• Landfill and construction site fencea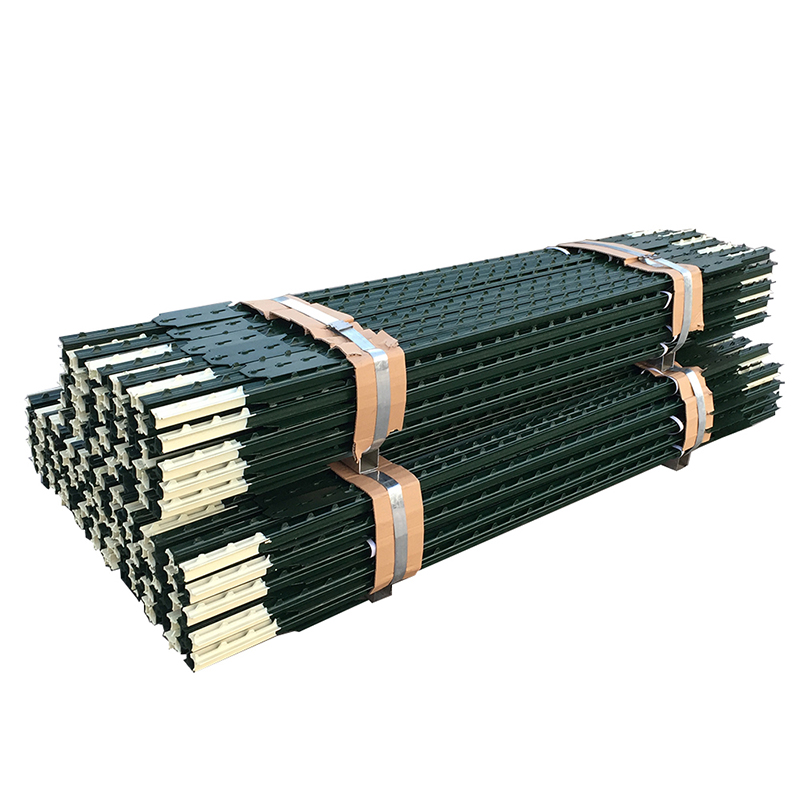 WEIGHT

LENGTH OF STUDDED T POST
5′
5.5′
6′
6.5′
7′
8′
PCS/MT
PCS/MT
PCS/MT
PCS/MT
PCS/MT
PCS/MT
0.95lbs/ft
464
422
387
357
331
290
1.25lbs/ft
353
321
294
271
252
220
1.33lbs/ft
332
301
276
255
237
207
other sizes as your demand
Packing: 5 pcs/bundle,200pcs/pallet

Applications of T studded post:
Raise and fix the wire mesh fences, including welded wire mesh fence, barbed wire fence.
Post for plants climbing and maintain the healthy growth.

To ensure your property stays secure, choosing the right fencing materials is imperative. Enter the studded T Post – a robust and dependable option for all types of fences.
These posts are composed of rail steel and are available in different weight options ranging from 0.85 to 1.33lbs/ft while also being customizable in length anywhere between five and ten feet long.
The surface finish options available include painted with spade, painted no spade, unpainted with spade, unpainted without spade or hot-dipped galvanized depending on your preferences and needs.
The distinguishing factor of the studded T Post lies within its T design that deters bending while providing supreme strength and stability that surpasses U-shaped post counterparts.
The additional swaged anchor plates add reinforcement contributing even more stability than before! Another great attribute is Rail steel's innate resistance to weathering making it ideal for use even in harsh climates! When contemplating installing a fence on your property there are several critical factors you must bear in mind. The posts that will anchor the fence are especially important as they serve as its foundation. Luckily studded T Posts provide an excellent solution that can handle any fencing challenge. One key advantage is their unique design, which eliminates the need for cumbersome digging– allowing easy installation on your part while maintaining structural integrity.
Furthermore the impressive holding power of these hot dipped galvanized steel posts guarantees that your fence stays firmly anchored through adverse weather conditions. Additionally studded T Posts come with customizable weight and finishing options so you can tailor them to match your specific needs or preferred style. This allows you to achieve perfect aesthetics on top of added durability – making them ideal for use at home or on farms where both functionality and style matter.
Studded T Posts provide unequaled peace of mind by ensuring safety and protection for your property from intruders or stray animals while keeping maintenance related expenses low over time.
In summary choosing high quality posts like studded T Posts offers superior value when investing in a secure fence solution; don't settle for substandard alternatives but instead opt for quality posts designed to last years beyond your initial investment.
---
Previous:
Nail Stake
Next:
T Post
---