Length:1.35m,1.5m,1.65m,1.8m,2.4m etc
Weight:1.58kgs,1.86kgs,1.9kgs,2.04kgs/m etc
Surface:painted, Hot dip galvanized, No paint
Usage:farm fencing,garden fencing
Packing:400pcs/pallet
Advantage of Y fence post:
1.This kind of fence post enjoys an improved rate of 30% in its mechanical property and physical  propery compared with common steel posts with same section size;
2.Have nice appearance. Easily used, with a low cost;
3.Long service life.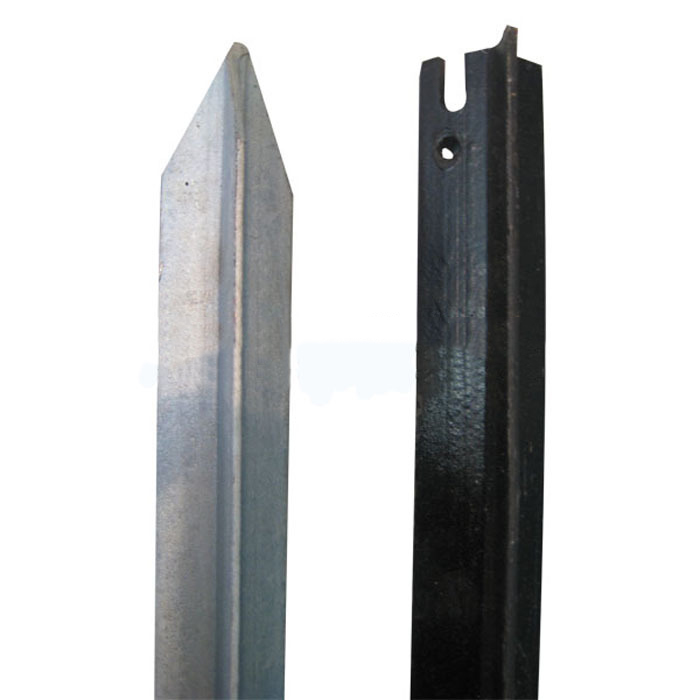 Packaging & Shipping
10pcs/bundle, 200pcs or 400pcs/pallet for vineyard Y post used for sale. Or you can choose other types of packaging.

 Application of Y fence post:
For protective wire mesh fencing of express highway and express railway;
For security fencing of beach farming, fish farming and salt farm;
For security of forestry and forestry source protection;
For isolation and protecting husbandry and water sources;
Fencing posts for gardens, road and houses.
Say goodbye to unreliable and weak fence posts once and for all with our revolutionary Y fence posts! Our high quality steel construction ensures rugged durability against extreme weather conditions as well as animal damage.
Our Y fence posts come in varying weights ranging between 1.58kgs 2.04kgs/m and lengths spanning between 1.35m 2.4m; they're perfect for use in any fencing application – be it farm fencing or garden borders!
Choose from one of three surface finishes – painted hot dip galvanized or without paint – depending on whether you're seeking maximum protection against harsh environmental elements or prefer a more natural look. Our Y shaped design makes installation quick and easy –no more hassle trying to twist wire around regular post designs! When it comes to sturdiness and dependability, our Y fence posts boast an effortless user experience at low cost; perfect for those seeking quality at reasonable prices.These fence posts are engineered with a mechanical and physical improvement rate of 30% over standard steel poles. This feature makes them one of the strongest solutions available on the market today.
Our product's appeal doesn't stop there – we pride ourselves in its presentation too! Our attractive Y-shaped design is sure to impress offering additional durability over time. The versatility factor can't be ignored either – whether you need substantial coverage or just a smaller garden enclosure, our sturdy post will suit your needs flawlessly.
For truer convenience still ,we package 400 units per pallet so bulk requirements are well taken care of also affordable by price point .Invest today and join thousands already satisfied with their purchase!
---
Previous:
U Post
Next:
Y Post Cap
---